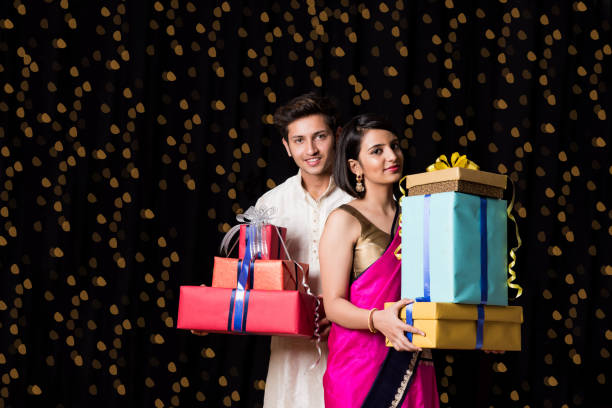 As the days grow shorter and the calendar inches towards that one special festival, we find ourselves awash in a wave of nostalgia and anticipation. It's a feeling that has been a constant companion throughout our lives, a sense of joy and excitement that heralds the arrival of Diwali—the festival that we all eagerly await, the festival that warms our hearts and lights up our homes.
Diwali, the festival of lights, is not just an event on the calendar; it's an emotion, a tradition we hold dear to our hearts. It's a time when, regardless of where we are, the family bonds draw us together like magnets. The transformation begins slowly, subtly, as we dust off old memories and decorate our homes. The soft, warm glow of traditional diyas adorns every corner as if each harbours a tiny flame of hope and love.
But Diwali is not just about what we see and smell; it's about what we feel in our hearts. It's about sitting together, sharing stories that make us laugh until tears stream down our faces, and enjoying the delicious chaos of the kitchen, where sweets and savouries are prepared with love and care.
And then, there are the gifts—the thoughtful, meaningful gifts that speak volumes about our love for one another. It's not the price tag that matters; the love and thought behind each gift truly counts. In this blog, we'll embark on a journey to celebrate the spirit of Diwali by exploring thoughtful and practical Diwali gifts that can be sent back home to our parents. So, let's dive into the world of meaningful Diwali gifts, each a testament to the enduring love and joy that define this beautiful festival.
Personalised Photo Album: Preserving Precious Memories
A personalised photo album is a heartfelt gesture beyond the material realm. It's a tangible embodiment of the countless memories you've created as a family. Gather those cherished photographs that span generations – from your parents' wedding day to the last family vacation you took together. Create an album that captures the essence of these moments and narrates the story of your journey together.
Traditional Diyas for Diwali: Illuminating Tradition and Blessings
Diwali, the festival of lights, holds profound cultural and spiritual significance. Sending a set of traditional Diyas for Diwali to your parents is more than just a gift; it's a symbol of light triumphing over darkness. These handcrafted earthen lamps represent the victory of good over evil and bring blessings into the home. Your parents can use them during the Diwali Puja, their warm glow creating an atmosphere of spirituality and peace.
Gourmet Gift Hamper: A Culinary Journey of Delight
The festive season is synonymous with delectable treats and flavours that awaken the taste buds. A gourmet gift hamper is the ideal Diwali present for your parents, offering a delightful gastronomic experience. Fill the hamper with an array of sweets, dry fruits, and savoury snacks that cater to their culinary preferences. This practical gift adds flavour to their Diwali celebrations and demonstrates your consideration for their palate.
Home Décor Delights: Enhancing Aesthetic Grace
Diwali is a time for renewal and beautification of the home. Send your parents elegant home décor items that enhance the aesthetics of their living spaces. Consider handcrafted cushion covers that add a pop of colour to the living room, a decorative wall hanging that infuses an artistic touch to their surroundings, or a beautifully painted Puja thali that elevates the spiritual corner of the house. These décor items elevate the ambience and convey your affection and best wishes for their home.
Personalised Calendar: A Yearlong Journey of Love
A personalised calendar is a gift that keeps the connection alive throughout the year. It serves as a constant reminder of your love and shared memories. Curate a calendar featuring family photographs that span the spectrum of emotions – from laughter-filled gatherings to quiet moments of reflection. It's a practical yet sentimental gift, adding a personal touch to their daily routine, making every day a celebration of family ties.
Nostalgic Family Recipe Book: Flavorful Walk Down Memory Lane
Bring back the tastes and aromas of your family's cherished recipes with a personalised recipe book. Compile the secret family recipes passed down through generations and add a modern twist to them. Whether it's your mom's famous biryani or your dad's special dessert, this gift will satisfy their taste buds and evoke warm memories of family gatherings around the dining table.
Indoor Plant Oasis: Greening Up Their Space
Give the gift of greenery with a carefully selected indoor plant. Plants not only purify the air but also add a touch of tranquillity to any living space. Choose a low-maintenance indoor plant like a snake, peace lily, or lucky bamboo that will thrive with minimal care. This living gift will remind your parents of the nurturing love within your family and provide them with a sense of tranquillity and harmony in their home.
Handcrafted Artisanal Diwali Diyas: A Touch of Art and Tradition
Enhance their Diwali celebrations with handcrafted artisanal Diyas that are functional and works of art. These intricately designed earthen lamps are a testament to the rich heritage of Indian craftsmanship. They add an artistic touch to their festive decor and serve as a symbol of tradition and culture.
Subscription to Streaming Services: Entertainment Galore
Keep your parents entertained and connected with a subscription to a streaming service like Netflix or Amazon Prime. It's a practical gift that provides them with a world of entertainment at their fingertips. This gift keeps them engaged and gives them a reason to look forward to cosy movie nights together as a family, even when you're physically apart.
Personalised Family Nameplate: A Welcoming Gesture
Help your parents proudly display their family's identity with a personalised family nameplate for their home. Crafted with care, this nameplate can be customised with your family's name and a special message. This thoughtful gesture makes their home more welcoming and celebrates the strong foundation of your family bonds. Whether it's for Diwali, a housewarming, or any occasion, these nameplates are a beautiful way to send Diwali gifts online and convey your love and best wishes.
Conclusion: A Thoughtful Diwali from Afar
Sending Diwali gifts to your parents is not just about physical presents; it's a heartfelt expression of love and gratitude. These thoughtful and practical gifts go beyond material value; they evoke emotions, create lasting memories, and strengthen family bonds. Even when you're far from home, the spirit of Diwali continues to shine brightly, bridging the distance and keeping your family close at heart.